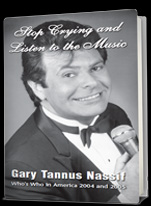 Stop Crying and Listen to the Music is the true story of Gary Tannus Nassif, once a flawed and dysfunctional youngster who did not believe in himself. He dealt with heartbreak, fear, a traumatic stuttering problem, and lack of self-confidence since he was a young boy. Yet, he tried to understand his father's abusive treatment and struggled to improve himself.
Gary experiences glorious moments—gaining self-confidence, self-control, and finding a reason to go on living—that eventually helped him deal with every obstacle that came his way. Driven with each failure, he fought to bring himself to the top. His surprising accomplishments in various fields proved that success is there for all of us to attain and enjoy.
Stop Crying and Listen to the Music is a depiction of the human spirit, a belief in God, and the will to rise above difficulties. Though much of the story deals with the author's personal experiences growing up under his father's strict rules and conditions, readers will marvel at the author's stunning achievements: his break into Hollywood as a singer/entertainer for the same stars he revered in the lonely movie theaters as a child; excellence in art; teaching students; and creating the renowned bronze sculpture, "The Jeremiah Children," for St. Jude Children's Research Hospital and its founder, Danny Thomas.
---
Get a copy of this inspiring authobiography NOW!
ON THE SUBJECT OF MY BOOK…
…AND WHY EVERYONE SHOULD READ IT !!
LITERARY AGENTS!
"Stop Crying and Listen to the Music", is a
Depiction of the Human Heart. It Can Hurt,
Mis-understand, Learn, Understand,
Perceive And Even Find Reasons To
Forgive the Hidden Innocence in The
Oppressor.
My book is my discovery of my Father and all his worth as a man; a Father without the benefit of a formal education. I searched for reasonings and found his good intentions were shrouded with ignorance. He had no understanding of how to raise me. He only knew tactics that his father taught him. Also without an education. I am the 'Good Son'.
Mom said over and over, after she read my manuscript, "Your Father Would Be So Proud of You; Any Father Would"! If I didn't backtrack and understand my Father's motives and went on hating what he did to me, I would be a loser.
In my book, I taught the reader to look for understanding and forgive. Forgiveness sets you free and it's the Godly thing to do. Too many people are too lazy and focused on self, (with a 'Poor Me Attitude') to invest the time to understand and find the righteousness in a person. I did and Dad would love me for it. And I got well in the process!! In a way, dad also became free in my plight for freedom!!

Thank You For Listening To My Heart"
Gary Nassif'
---
Get a copy of this inspiring autobiography
NOW!
Stop Crying and Listen to the Music
ORDER YOUR COPY OF GARY'S NEW BOOK BY CALLING XLIBRIS 1 800 795-4274.....
YOU'LL NEVER PUT HIS BOOK DOWN.
ISBN13 (TP) 978-1-4134-8060-3
ISBN13 (HB) 978-1-4134-8061-0